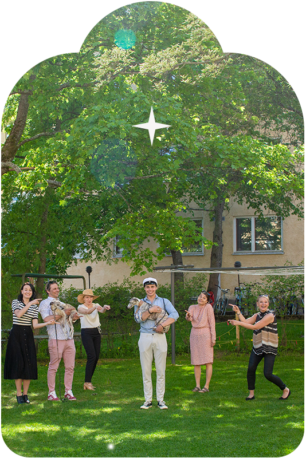 Pressure to celebrate
Joy and sadness
'The Uusimaa shutdown is ending', the newscaster on the TV says. The warmth of relief engulfs me. We can invite our second cousins after all. But they're a family of four, right? And there's three of us, and then there's grandma. She at risk, right? How many people are allowed in one space currently? The warmth fades and gets replaced by nervousness and restlessness. I think the catering business went under too. Or where did we usually order the cake from? Was it the other business, the one that's closed now too? Oh no, I'm such a disaster of a parent. I'll ruin my child's special day. Who would want to celebrate only with their parents? No one. Disappointment descends upon me and drains me. I am a failure.  
'The warmth fades and gets replaced by nervousness and restlessness.'
Fewer people make for a better party
Although only a slightly smaller number of people got married during the coronavirus pandemic than the year before, many couples postponed their wedding until the following year, or further. The restrictions and guidelines changed the way we celebrated. The quest lists were shorter and wedding plans concentrated on small and intimate events. Many graduation ceremonies were organised virtually, and the diplomas were sent in the post. 
The stress and joy of graduation
Graduating from upper secondary school is an important milestone for many in Finland, and a cause for a large celebration. Some families postponed the parties until the autumn, while some scaled down the event. Hand sanitizer and outdoor events were common experiences. The changing restrictions and the worry over at-risk relatives added to the stress of those organising the events. On the other hand, the familiar tradition served to alleviate the distress caused by the pandemic and gave a sense of continuity.  
Thank you.
You were not alone with your feelings.
{{ parseInt(result.result_count * 100 / totalVotes)}} %
{{ result.result_name }}